Experimentation in Ecosystem Research
ExpeER is a major European Infrastructure project (2010-2014) in the field of Ecosystem Research. ExpeER will, for the first time, federate existing national infrastructures, improve their research capacity whilst at the same time facilitating access to those key experimental and observational platforms as well as analytical and modelling facilities for the benefit of the international research community.
CALL FOR ACCESS: FUNDS AVAILABLE FOR RESEARCH VISITS!!!
The ExpeER call for Transnational Access (TA) proposals is continuously until 31st July 2014. It offers access to 30 state-of-the-art research infrastructures across Europe. It is possible to join on-going experiments and measurements, to initiate new ones, to use data bases etc. More information about ExpeER access and list of ExpeER TNA sites.
ExpeER INTERNATIONAL CONFERENCE 2014
International Conference on Experimentation in Ecosystem Research in a Changing World: Challenges and Opportunities - DOWNLOAD THE PROGRAM
Date: 24th and 25th of September 2014.
Venue: National Museum of Natural History (auditorium de la Grande Galerie de l'Evolution), 36 rue Geoffroy Saint-Hilaire in Paris, France.
There are many challenges involved in understanding global environmental changes, and in providing societies with the policy-relevant knowledge base to deal with them. The research community requires state-of-the-art research infrastructure (RIs) to have the capability to explain and predict global environmental changes. In this context, this conference will provide a platform for discussions on cutting-edge technological tools, large-scale integrative experimental design, technical constraints, data access and last but not least ecosystem modeling. The conference will attract speakers and delegates from around the world and will offer opportunities to reinforce global cooperation.  
FOR REGISTRATION AND SUBMISSION OF ABSTRACT, VISIT THE CONFERENCE WEBSITE.
The conference is open for both ExpeER partners and external experts.
MEETING
The ExpeER 4th consortium annual meeting will be held on Tuesday 23 September 2014 in the National Museum of Natural History in Paris (same place as the ExpeER conference). ExpeER partners will be asked to register to the annual meeting in a separate link sent by email. ExpeER partners who would like to participate in the ExpeER conference are asked to register also via the conference website.
TERENO INTERNATIONAL CONFERENCE 2014
September 29th - October 2nd, Bonn, Germany. More information here
FIFTH INTERNATIONAL COURSE ON CLIMATE CHANGE
September 22nd - October 3rd, Doñana National Park. More information
here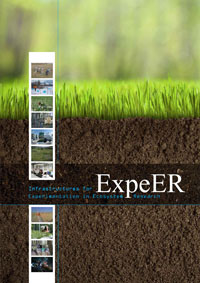 ExpeER BROCHURE
The ExpeER brochure* is available here. It will be sent to every ExpeER participants and numerous stakeholders in the next month.
OPPORTUNITIES
1. "Impacts of climate change and pollution events on Arctic ecosystem structure and function" and "nutrient cycling and plant soil feedbacks in a high CO2 world at the Hawkesbury Institute for the Environment". Further details can be found here.
2. Postdoctoral position on Biological Invasions at Doñana Biological Station (EBD-CSIC), Spain. More information here.
AnaEE is part of the European Strategy Forum on Research Infrastructures Roadmap (2010) as a new distributed EU infrastructure for ecosystem research. ExpeER forms the building blocks of the AnaEE distributed infrastructure by federating and structuring key existing experimental and observational infrastructures in ecosystem research in Europe. More about AnaEE.
Sale Of Viagra